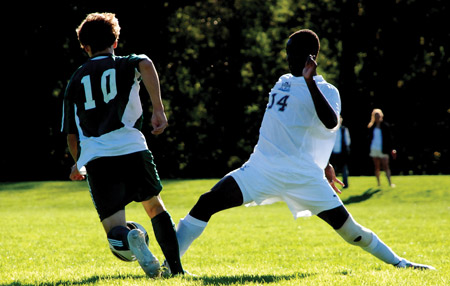 After sixteen years, Deerfield boys' soccer defeated Loomis Chaffee on October 20, marking one of the many highlights in its season so far.
In an important game at home, players capitalized on their chances by scoring four goals in the first twenty minutes, which lead to a 4-2 win over an always-strong Loomis squad.
"Four years ago we took a big lead against Loomis, but they came back, and the game finished at a 5-5 draw," said Coach Jan Flaska.
"I knew they could score goals, and so I am very proud of our players for hanging on after obtaining the lead. It was a great win against a very good team."
The players were also excited after their win against Loomis. "The Loomis game showed us how well we can play against a top team, and with a lot of important league games coming up, we need to continue playing this well in order to make the New England tournament," co-captain Jimmy Bitter '11 said.
Bitter and fellow captains Hunter Huebsch '11, Sammy Redmond '11, and Alex Ward '11 lead a strong attack by example.
Although Redmond has been sidelined with injuries, Bitter and Huebsch have been putting in many goals, while Ward anchors the midfield. Huebsch, also known as the "flying tomato," for his red hair, "puts in goals by throwing his body around like no one I have seen before," said Redmond.
"We are all really close friends, so it is great to be captains together on the same team," said Redmond.
Two post-graduates, John Hogan and Tim Shea, have also added important talent to the squad.
Shea is a lifetime soccer player who controls the midfield, while Hogan anchors a strong line on defense, which includes Will Henry '11, Matt McDonald '11, Bobby Osgood '11, and Kurt Heise '12.
Outside of games, the team likes to loosen up and have fun during practice, and every Thursday each player on the team comes dressed in a professional soccer jersey for the highly anticipated Boyden-Liga.
There are four teams, and each has a PGM (player general manager) who runs the team and makes trades with other teams for different players. The games are four-on-four for fifteen minutes, and are always high-scoring and exciting.
The team also enjoys helping coach the Greenfield Youth Soccer Program every Saturday morning. The kids are between pre-kindergarten and first grade, and it is "great and often very funny to see the players interacting with the kids," said Mr. Flaska.
Working with these young players also gives the Deerfield players an insight into coaching, which can help in their play on the field.
Often, the kids coached on these Saturday mornings come to watch the team's home games, which adds to the special relationship.
As Choate Day approaches, the team has its sights set on making New England's.
"We have a great unit of players who are well connected," said Mr. Flaska. "So far the season has gone very well and I am proud of what we have accomplished."